WE'RE BACK!
We are going to be doing drops all spring and summer.
Follow us on Instagram for all the latest news and updates!
OUR ICE CREAM
We are Vernon's ONLY artisanal ice cream company! We make small batches of French-style ice cream using local, pure and natural ingredients with out the use of chemicals or fillers. Just pure, wholesome goodness. Find us at Okanagan events and markets on our one of a kind ice cream bike or hire us to come to you for your next special event or wedding!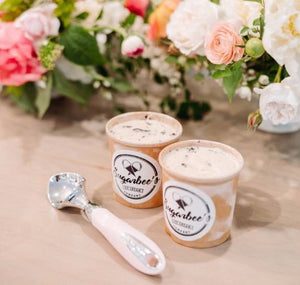 Locals Supporting locals
We strongly believe in investing in our community. We try to source our ingredients whenever possible from Okanagan suppliers. It also means that we get the freshest ingredients from people we trust, all which help make for great tasting ice cream! When you support Sugarbee's, you're also supporting other local businesses and hardworking farmers and artisans in your own community! 
How To Order
Monthly Ice Cream Flavor Launches

1. We announce the date and time of that month's flavor LAUNCH with teasers and all the mouth watering flavors that you'll be able to purchase. We also will announce a few local pick up days that will be at Gumtree Catering, Vernon, BC. Inventory goes fast so set your alarms! PROTIP: Always check Instagram or Facebook for the most current updates!

2. Go to the website on launch day and order your handmade, local ice cream and choose your PICKUP date and time. Keep in mind having items in your cart does not hold the items!

3. You arrive at Gumtree Catering on the date and time that you chose to pick up your order! Protip: Bring a cooler with an ice pack or two to really protect your ice cream!